Golden Retriever Rescue Resource - golden retriever puppies and dogs for adoption.


Golden Retriever Rescue Resource, GRRR, Inc. is dedicated to re-homing abandoned strays & unwanted Golden Retrievers and Golden Retriever mixed dogs. We serve the Toledo Ohio area, along with all of northwest Ohio, southern Michigan & eastern Indiana areas.

We are an all volunteer 501 (c) (3) non-profit golden retriever rescue who relies completely on your donations to help rescue, medically treat and spay / neuter these dogs to be placed in extraordinarily loving homes.

Become a golden retriever foster mom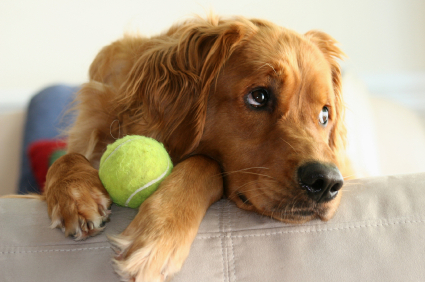 Treat me kindly, my beloved master, for no heart in all the world is more grateful for kindness than the loving heart of me...
prayer of a rescued golden retriever dog.
Foster homes are responsible for the care of a foster dog, including feeding, exercising, socializing, grooming, reinforcing basic obedience commands, observing & evaluating general behavior & temperament and of course providing love & security to a golden often at a difficult time in their life. The transitional foster mom plays a very important role in the life of a rescued dog. We need more very special people who will play that supportive role in preparing a dog for their new life.


Make a difference by becoming a foster...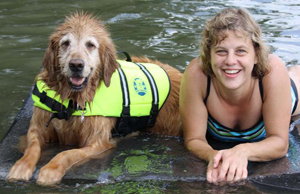 Being a foster mom is one of the greatest rewards in my life. What an awesome feeling it is to help so many dogs, one at a time!
Help us to save more dogs in 2015!
Dear Golden Friends,
As we quickly approach 2015, we here at GRRR, Inc. have been diligently working to make sure our golden and golden mixes are getting matched with their perfect forever homes! Along the way we have once again encountered our fair share of obstacles, but as always, we have found a way to get through them with the never-ending dedication of our volunteers.
We started out 2014 with
Clair
having to be driven to the neurologist in Ann Arbor during a winter storm to find out if she had a spinal cord stroke-. She had to have an MRI of her spine and pelvis because of her large vaginal tumor. Upon follow up with an oncologist we found that there is nothing that can be done for Claire's tumor surgically. So she is now living in hospice care with volunteer Amy enjoying her remaining days being spoiled rotten!
Next came pregnant and heartworm positive Holly. On January 12, 2014, she had 10 puppies that if we wouldn't have known came from a purebred mother, we would never know they had golden by looking at them! They were all placed in loving forever homes and Holly was able to have her heartworm treatment in March and a growth removed from her back in May. She is now living happily ever after in her forever home.
Then there is
Hawkeye
who came to us all the way from Kansas, as there were no rescues closer that would take him because it was clear by his state that his medical bills would be costly. He had an obvious neurological issue as he was spinning almost constantly, had difficulty settling himself down, and had dilated pupils. So once again we headed to see the fabulous doctors in Ann Arbor, where Hawkeye had an MRI and spinal tap done. The MRI showed a mild enlargement of a ventricle in his brain and the spinal tap showed a virus that most likely was the cause of the enlarged ventricle and the cause of the spinning and dilated pupils. The virus was not identified but a host of tick borne viruses were eliminated as the culprit. He was started on prednisone to control inflammation from the virus and with the hope his body would be able to fight it off. He has just finished his last dose of prednisone so now we will wait to see if his symptoms worsen, which would indicate the virus is still present and that he will have to be on meds the rest of his life. If his symptoms do not worsen then the virus is probably gone and the damage has been done but should not get worse.
In addition to all of these major happenings this year, we have had Carson who had a mast cell tumor removed, Jolie had a cancerous mammary tumor removed, Penny was treated for heartworm, and Odie had to have 11 teeth pulled along with a growth from the base of his tail!
Currently, we are working on poor
Madison
. She came to us with her sister Molly in May. In September, she went to a foster home where she lived inside for the first time in her life. Unfortunately, Madison has a tumor on her lower rib area. She has just had a CT scan done with the oncologist to see what her options are for surgery. Unfortunately, this is a very invasive surgery that could cost upwards of $5,000 not including the CT scan and other testing that has been done. The Board Members of GRRR agreed that if it were one of our dogs we would save their life if we could, so how could we not do the same for Madison? This is a huge undertaking that will require lots of fundraising and donations, but we feel that we owe it to Madison to save her life if we can.
We can't forget our dogs with behavioral issues!
Kobi
came to us when he was found as a stray and the local shelter said that he was cage and food aggressive and they could not adopt him out. He was about a year old and had obviously been living outside prior to going to the shelter as he was in the process of shedding a very thick coat. He did go with a family that were previous adopters, but proved to be too much of a danger to the neighborhood children. Obviously he had some negative experiences with children prior to coming to our rescue, as he has absolutely no tolerance for small children. So, needless to say, GRRR wanted to do the right thing and we took Kobi back and sent him to a trainer where he still remains today. At this point the trainer believes that he is very adoptable, but needs to be placed in a quiet home without children and with dog savvy owners. Kobi's adopters will have unlimited group classes with the trainer that he is currently with for the rest of his life to ensure his success. However, Kobi's training has cost over $2,000 this year as we have not been able to find the perfect home for him yet.
We are also sending
Auggie
to training classes currently, and we have had
Murdock
evaluated and he is doing very well and looking for his forever home too. There is never a dull moment here at GRRR, Inc. and we couldn't pull it all off without the tireless work of the volunteers that make rescue a part of their daily lives, as well as all of you who generously support our mission year after year!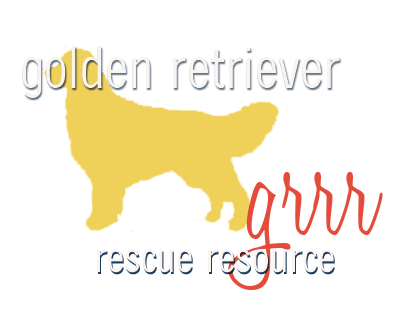 We are on track to hit $40,000 alone for our dogs this year, so any donations made help us save the lives of these precious dogs.
Just click the link below and make any donation. All are donations are tax deductible. We have no paid staff,
so all donations go towards the care of our dogs.
Happy Holidays to you all! Rachel Roach, President, and the volunteers at Golden Retriever Rescue Resource
Help us please so we can save more dogs!
Golden Retriever Rescue Resource Special Features & Events
We have many adoption events throughout the year. In addition to these events we also have golden, special events and features. Within our special event programs, we try to give back to those who have been so good to us over the years, you! We also have many special features where you can help us daily. These featured programs include the Kroger Community Club Rewards Program (details below) as well as shopping Amazon via the special Amazon Smile link below.
---
Why adopt an older golden retriever?
The rewards will be completely golden.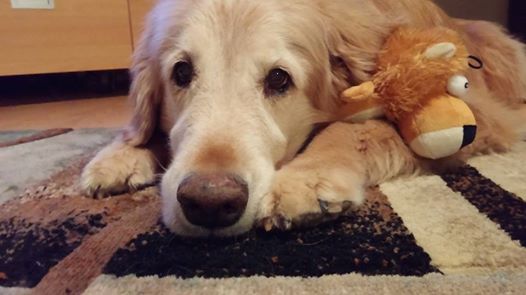 When senior golden retriever dogs are adopted, they truly seem to be
more thankful for your rescue. Senior dogs usually come to your home
trained and full of love. Want a no muss, no fuss golden?
Discover real gold...
What's news?
GRRR Euchre Tournament - Saturday January 24th!
Here's a golden opportunity to really have some fun in dreary, dull, dismal January! Come play with us and help our dogs. Great prizes and great goldens will be there too!
Get the details here!
Gourmet Holiday Nuts - benefits GRRR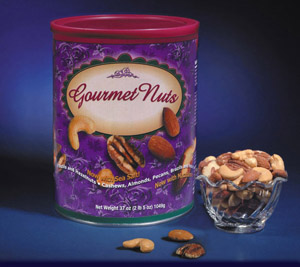 These nuts make great Christmas presents and benefits our dogs. There are
no peanuts at all!
Each can is 36 ounces of gourmet nuts; cashews, pecans, almonds, macadamia nuts and brazil nuts. We sold out last year and have a LIMITED supply! In the Toledo area, contact
clryoung@bex.net
and place your order. Six cans or more receive free COD delivery.
A $20 delicious gift--order today!
End the new year right! Help us help Madison!
Madison was diagnosed with a cancerous tumor. Her outcome is very good. We have decided to treat Madison and ask for your help. We believe Madison can have a positive outcome and a good life ahead. Hopefully this could be in your home :) Read her new bio! We need help immediately. Can you become a Golden VIP sponsor of Madison? Donate any amount today...
Help Us Cure Cancer in sweet Madison
---